Rethinking In-Office Cybersecurity – How to Return to the Office More Secure Than Ever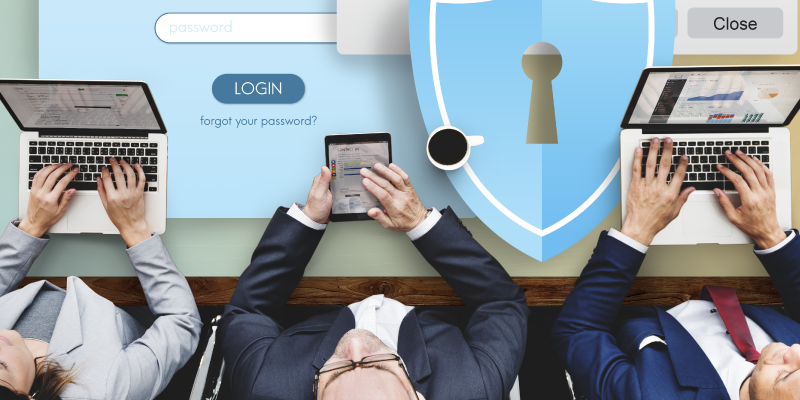 Three-minute read
The COVID-19 pandemic changed the way many organizations operate. And while employees have enjoyed the flexibility of working from home, enterprises have been left exposed to increased cybersecurity risks.

Companies have had to rapidly adapt to socially distanced teams and implement quick fixes to their technology needs, but returning your employees to your facilities will involve carefully constructed strategies to ensure employees are safe and your data is secure. Throughout this process, cybersecurity must be a top priority.
We've outlined three KEY FACTORS to consider about in-office cybersecurity when planning your return to the office:
1. Implement effective security policies
The transition phase of moving back into the office can be a particularly vulnerable time, but it also presents a unique opportunity to evaluate your cybersecurity policies. Thus, a great first step in planning the office return is a security assessment to prioritize the most significant risks.

We recommend organizations establish clear security policies for all employees, whether working in the office or at home. These policies must cover the use of hardware and software, the maintenance of technology, and best practices for installing approved apps, online communications, social media, and information sharing.

At a minimum, all company devices should have the latest security patches and updates, a managed software-based firewall, and managed endpoint-based antivirus protection.
2. Equip employees to identify cyber threats
The first line of defense against cyberattacks rests with your employees. All workers must receive effective security awareness training to equip them with the tools to discern possible cyberattacks.

You can do this by clearly communicating what these threats look like and how to mitigate them to all employees. Policies and procedures relating to your organization's information security should also be shared across all departments.

Having an on-demand help desk – either in-office or through a managed service provider – is also an important consideration to ensure that all workers have immediate assistance to identify and address potential threats.
3. Manage technology needs
Flexible work arrangements are here to stay, and with workers spread across different locations, companies will need to examine their remote and in-office cybersecurity risks carefully.

Whether working from home or in the office, organizations will want to strictly prohibit employees from using personal equipment for work purposes and transferring or accessing business data from personal computers. We also recommend that managers ensure all remote workers have company devices and data is securely stored on company-managed services and networks.

Remember: malware can infect an employee's corporate computer via their home office network and lay dormant, becoming active once reconnected to the corporate domain. To manage this risk, any devices reconnecting to the office network must be first checked for updates and potential threats.

Remote workers in need of a change of scenery may be tempted to take their laptop to a café with free WiFi. However, using public WiFi networks can expose your organization's data to cyber threats. Employees need to ensure they have comprehensive protection and understand their organization's policies surrounding the use of public networks.

Consider using a managed service provider (MSP) to address your technology needs. For example, your MSP will likely offer Hardware as a Service. They will take responsibility for sourcing and managing your equipment, appropriate security updates, and licensing, saving you time and resources for other critical business operations.

How designDATA can ensure your cybersecurity
As you plan your return to the office, it is essential to stay updated on the latest cyber threats and how to defend against them. designDATA offers comprehensive, white-glove solutions to help you manage your cybersecurity, so you can rest assured knowing your data and network are secure. Speak to a Cybersecurity Expert today to learn more about our incident response planning, identity management, and HaaS solutions.