Microsoft Viva Insights and Measuring Employee Productivity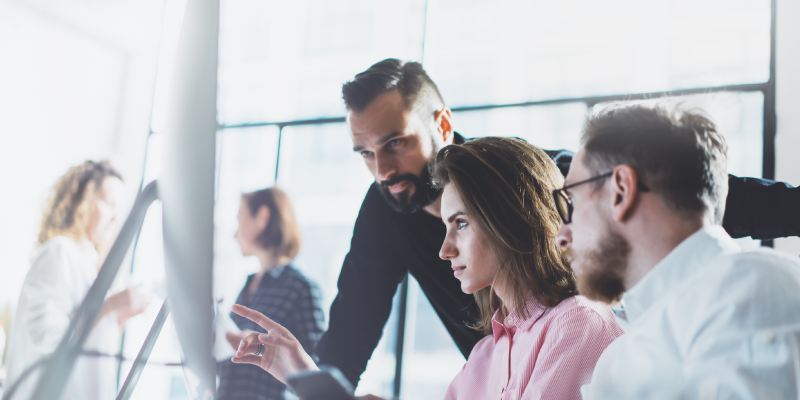 Five-minute read
Employee experience is one of the most transparent indicators of business success and satisfaction. At its core, this describes the sum of all interactions an employee has with an employer, including everything from major milestones and personal relationships to technology use and ergonomics.
Despite being an essential piece of the corporate puzzle, employee experience and well-being have traditionally been swept under the rug. This is problematic since staff well-being directly affects engagement, retention, performance, and business development. At every organization's core should be the question: how are employees experiencing the workplace?
Luckily, the pandemic has thrust employee experience and well-being into the spotlight as organizations try to determine a way to outperform the competition, attract and retain top talent, and scale with increased satisfaction. Business leaders began calling for a solution to better measure this experience, and (as usual) Microsoft came to the rescue with their new platform: Microsoft Viva Insights.
What Is Microsoft Viva Insights?

Microsoft Viva Insights is part of Microsoft Viva, a platform that brings together all aspects of the employee experience, from communications and knowledge to learning, resources, and insights. It integrates seamlessly into the Microsoft apps you use every day, like Teams and Outlook – as well as other Microsoft 365 apps and services – to accommodate your teams' preferred workflow. As a bonus, Microsoft Viva Insights can also access data from your existing ecosystem of collaboration tools and services, such as Zoom, Slack, Workday, and SAP SuccessFactors. 
Why It Matters
Microsoft Viva helps people achieve stability, collaborate intelligently, and find focus wherever and whenever they need it because let's face it – employee experience is at the center of our collective success. Companies that prioritize this are more profitable and innovative than those who understate its importance.
This goes hand-in-hand with blurring the boundary between work and life. Without a healthy work-life balance, employees lose engagement, report higher stress levels, suffer from elevated anxiety, and experience alarming burnout rates. Once this happens, it's only a matter of time until these employees leave their jobs.
Fortunately, Microsoft Viva Insights gives individuals, managers, and leaders personalized and actionable insights that help everyone in their organization flourish. 
Features to Expect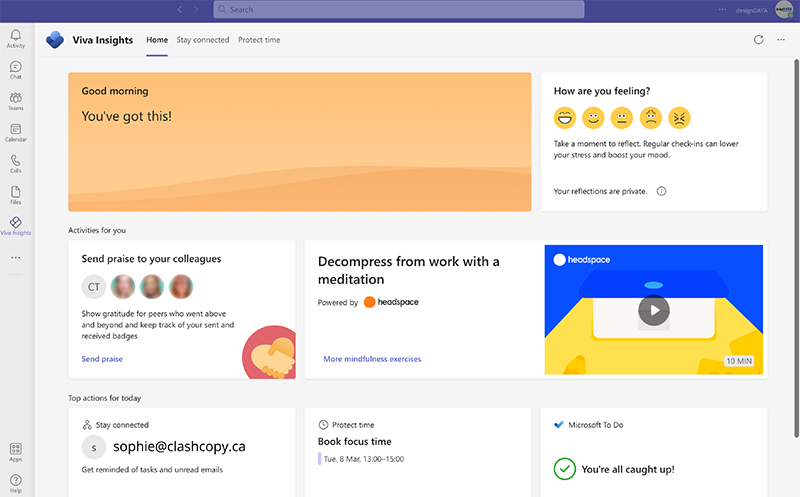 Currently, Microsoft Viva Insights is being introduced to Microsoft 365 users via Exchange Online. This preview features an initial set of personal insights and well-being experiences designed to safeguard employee privacy with unique insights visible only to the individual. By default, manager and leader insights are protected with de-identification, aggregation, or differential privacy measures. Although currently in the preview stages, Microsoft plans to incorporate Workplace Analytics and MyAnalytics under the Microsoft Viva brand.
Personal Insights
Microsoft Viva Insights enables employees to connect and maintain strong relationships with their central network contacts by prioritizing regular one-on-one meetings and keeping up with requests distributed across all platforms from one location. It has also introduced a "protect time experience" that makes it easy for users to schedule focus time so that they can experience at least a few minutes of uninterrupted work every day.
Features like these are extremely valuable to maintaining work-life balance. As communications become increasingly virtual, making it difficult to 'step away' from the office, Microsoft Viva Insights ensures employees remain productive during their work hours so they can effectively enjoy their time off.
Well-being Experiences
To enable people to stay organized, engaged, and mindful, Viva Insights brings well-being experiences directly to employees, including features such as:
Virtual commute: helps employees mindfully wrap up their workday
Check-ins: helps employees pause and reflect on their day

Integration with

Headspace

: adds meditation and mindfulness experiences

Actionable insights: adds course recommendations from LinkedIn Learning to support continuous training and promote career growth

Daily briefing email: helps employees look forward to and prepare for the week ahead
Benefits for Leaders and Managers
A significant part of employee engagement and overall positive experiences is the connection between managers and employees. It's vital for managers to be aware of what is going on with their employees' work and well-being.an overall positive experience is the connection between managers and their employees. It's vital for managers to not only be aware of what is going on with their employees' work, but also their wellbeing.
Microsoft Viva Insights includes a set of experiences that enable managers and leaders to boost productivity across their organization by empowering their people to be their best. It also grants managers visibility into employee work patterns that can lead to burnout and stress caused by meeting overload, a lack of focus time, or time worked outside employees' chosen work hours. By monitoring these patterns, managers can nurture the well-being of their team members by identifying relevant challenges and supporting employees' varied work and flexibility needs. 
Later this year, Microsoft plans to launch action plans to join employees and managers and give productivity a major boost. This feature will provide team members with recommendations and best practices to help them prioritize their well-being while managers assess progress against team goals over time in tandem. As a result, managers will be able to address critical questions and take actions to strengthen team resilience and boost employee engagement to ensure that their organization is ready for anything the future brings.
Regardless of the complexity of your business needs, designDATA is ready to support you by integrating Microsoft Viva Insights to measure and boost your employee productivity. Are you ready to transform your organization?